Meat-Flavored Dog Toothbrush
Regular price $27.99 $13.99 50% OFF
You need to brush your dog's teeth every day to keep his oral health in check and to prevent any oral diseases.
The fact is: 4 out of 5 dogs suffer from oral disease by the age of 3! Gingivitis is one of these diseases and it leads to painful inflammation, bad breath and can easily lead to other life-threatening diseases! The DogySticky is the best DIY solution to ensure your dog's teeth are properly cleaned.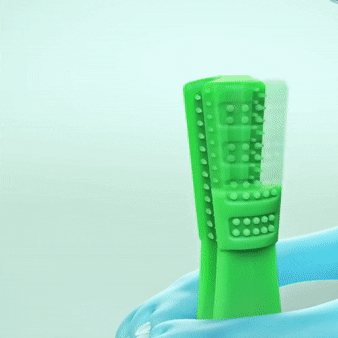 It's fun for your dog, and it's designed to be effective and reach those unreachable places like the molars. You will have NO stress as a pet owner and your dog will have no problems playing with the DogySticky and while at it, they'll be fixing up their oral health and breath.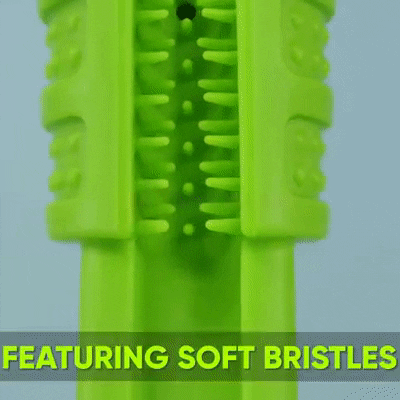 Traditional toothbrushes bruise and hurt the gums of dogs and because of this, most dogs never prefer to toothbrush and it's a lot of stress for you, the pet owner and without knowing it, your dog too could be getting sick due to oral bacterias.
Size: M (15*10*4cm)  or  L (18*13.5*5.5CM)
Specifications: 
1) Safe, non-toxic, flexible
2) Does not damage the teeth
3) Non-slip design
4) Safe and reliable TPR material, soft and durable, highly durable.
How to use:
1) Deeply clean the mouth with toothpaste.
2) Shrink the pet's toothpaste.
3) Instruct the dog to bite the toothbrush.
4) Chewing is equivalent to playing and cleaning teeth.
5) Clear all directions from the dog's teeth to the gums.
6) Then clean the body with a brush.
 Package Includes: 
1x Toothbrush.
SHIPPING & DELIVERY
YES, WE SHIP TO YOUR COUNTRY!!!!
Free Shipping on all orders above $50!!
WORLDWIDE DELIVERY✈️:
We ship anywhere in the world straight to your doorstep!
Below $50:
We have Premium Special Line Shipping (7-14 days).
Do not worry, We always send packages with Tracking Numbers so you will be notified every step of the way.
Click the BUY IT NOW button to secure yours today!! 
🔒OUR GUARANTEE
We truly believe in providing our customers with one of the most innovative products in the world, and we want to make sure we back that up with our 30-day guarantee.  
Should you not have a positive experience with our products, we will do absolutely everything to ensure satisfaction and positive experience with us including no questions asked a full refund.
Just contact us by emailing us at support@myinternetgeeks.com if you need any assistance and we will get back to you in 24hrs.
READ THE REVIEWS BELOW TO KNOW CUSTOMER SATISFACTION.
people are currently looking at this product
Guaranteed Safe Checkout